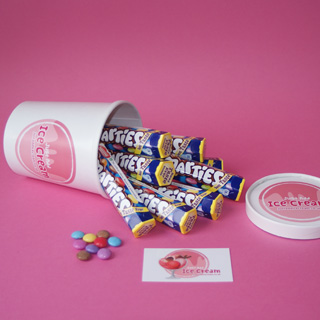 Smarties Chocolate Gift Tub - £6.00 (each)
Great gift ideas for Smartie lovers - the best chocolate present - a Just Add Ice Cream tub packed full of tubes of Nestlé Smarties.
What's in the tub?
Smarties x 8
Packed in a large Just Add Ice Cream tub
A great chocolate gift for people who love Smarties (and ice cream) - just £6.00.
Select how many Smarties Chocolate Gift Tubs you would like to buy.
More Gifts for Everyone
You might also like these for your party or event:
Children's Party Tip
If you're ordering tubs for a children's parties, remember after the sundae, our ice cream party tubs can then convert into unique goody bags for the children to take a slice of Birthday cake home.
Check out our How It Works page for more details.
Any Questions?
If you have any questions, please email hello@justaddicecream.co.uk and we will be happy to help you. We aim to respond to all emails within 24 hours.