How Just Add Ice Cream Works
Have you run out of ideas for your childrens party?
We provide all you need for party guests to make their own ice cream sundaes - the dishes, the spoons and most importantly... the toppings.
Keep your guests occupied and entertained, Just Add Ice Cream then sit back and enjoy the party!
At children's parties, after the sundae, our kids ice cream party tubs can convert into unique goody bags for the children to take home any leftover toppings or a slice of Birthday cake.

Simply choose the Just Add Ice Cream party tubs you need for each party guest and add to your basket, select the extra ice cream toppings package if you need it and pay securely online using a credit card, debit card or your own PayPal account.

Keep each party guest occupied and entertained by giving them a tub to open and explore the contents, meanwhile fill up their Just Add Ice Cream dishes with some scoops of their favourite ice cream then let them create their own ice cream sundaes.

After the party, each tub converts into unique party goody bags for guests to take home. Any left over sweets (if there are any!) can go back into the tub together with a slice of Birthday cake - job done and time for a relaxing cup of tea (or glass of wine!).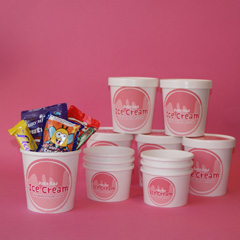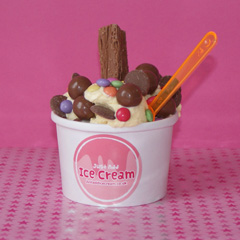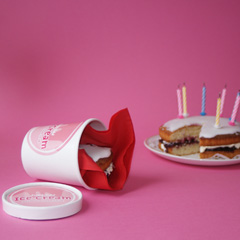 FREE with every party tubs order!
We will add a free bottle of Askey's Strawberry or Milk Chocolate Ice Cream Sauce to your party tubs order for guests to squirt over their sundaes.
Extra Toppings
The optional Just Add Ice Cream Extra Toppings Package contains spare tubs and extra spoons plus Askey's ice cream sauce, some extra toppings including sprinkles, Cadbury '99' Flakes and ice cream wafers which you can either serve to the children or put on the table for the kids to help themselves.
As there aren't usually many leftovers we also have overload take home packs with extra treats sealed in a striped Just Add Ice Cream Goody Bag for when it's home time.
Gifts for Everyone
We also have a range of chocolate gifts with Nestlé Smarties or Rolos®, just add ice cream gifts for two and ideal thank you gifts for everyone who helped with the party.
Any Questions?
If you have any questions, please email hello@justaddicecream.co.uk and we will be happy to help you. We aim to respond to all emails within 24 hours.